Steam Turbines
We design and manufacture Steam Turbines of capacity upto 15 MW such as Extraction Condensing Turbine, Straight Condensing Turbine, Multi Stage Steam Turbines, Single Stage Steam Turbines, Modern Steam Turbines, Multi Stage Back Pressure Steam Turbine and many more items with effective & timely delivery. Our Steam Turbines are of high quality & meeting industry standards & specific to customers requirements
Multi-Stage Steam Turbine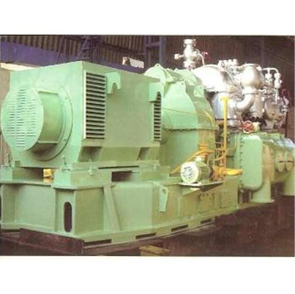 Backed by the team of skilled technocrats & professionals, we produce an extensive range of Multi Stage Steam Turbines. Our offered steam turbines are manufactured by making use of contemporary technology and modern tools at our manufacturing unit. The offered steam turbines maintain your valuable investment in replacement parts inventory. We provide these steam turbines on diverse specifications as per the need of customers.
Features:
Precise construction
Longer working life
Rust resistance
Other Details:
Industries Served:
Oil and Gas
Power
Sugar
Ethanol
Paper /Rice mills/ Small Process Industry
Education (Universities)
Municipalities
Medical
Food and beverage processing
Petrochemical
Design Capabilities:
Single And Multi-valve inlet.
Controlled extraction.
Extraction/Condensing.
API 611 and 612 specifications.
Mechanical And electronic governors with minimum Retrofilling on existing Turbines.
Remote Monitoring Controls & Automation of Power house.
Mechanical Drive Applications:
Compressors
Chillers (air Conditioning)
Boiler Feed Water (and other) Pumps
Milling equipment
ID FANS & FD FAN
Power Generation Capability and Other Specifications:
Power capacity 1000 KW - 15000KW
Exhaust pressures from 1200 KW to 6000 KW
Inlet temperature up to 530 Deg C
Inlet Pressure up to 87 Bar
Exhaust pressure
from 0.5 HgA to 18 Bar
Up to 11000 RPM
Mill Drive Steam Turbine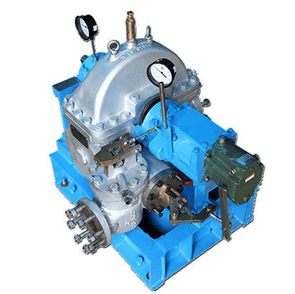 Mill Drive Steam Turbine offered provides for tight speed control at low costs.
Superior digital control designed to control steam turbines driving mechanical loads.
Provides for more tighter control of speed.
Specifications:
Comprises input for 4–20 mA remote speed control signal.
Can be used for process generated input to control speed setting.
Dual speed control dynamics.
Comes with over speed trip test.
Provides for low-cost, compact, digital control.
Single-valve/single-valve rack steam turbines.
Featuring commercially available pneumatic actuators.
Provides for convenient operator control.
Corrosion-resistant enclosure designed to meet defined standards.
Easy setup and tuning support.
Steam Turbines for Sugar Mills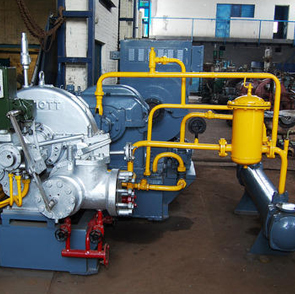 Steam Turbines for Sugar Mills offers are backed by low cost digital technology for easier process handling.
Features:
Featuring advanced user programmable control.
Provide for program security and advanced process control interface.
Specifications:
Allow for minimal installation time.
Interfaces with hydraulic or pneumatic actuator.
Single-casing steam turbine designed for operation within speed range of 3,000 to 18,000 rpm.
Suitable for generators/mechanical drives up to 6000 KW.
Turbine used for condensing and backpressure applications.
Geared or directly coupled options.
Option of customized steam path developed according to customer's needs.
Featuring reliable and flexible design.
Available with axial or radial exhaust as per customer specific need.
Steam Turbine for Rice Mill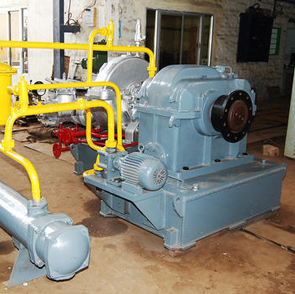 Steam Turbine for Rice Mill offered provide for increased efficiency.
Features:
lower flow losses.
Allows for reduced start-up times due to faster heating of turbine.
Specifications:
Allows for fast load changes.
Compact design construction finish.
Allows for simplified maintenance due to improved availability.
Featuring horizontal casing split and independently accessible bearings.
Support extracting thermal energy from pressurized steam.
Made in variety of sizes ranging from <0.75 kW units to 3500 KW.
Available in two basic types comprising blades and nozzles.
Available in back pressure or condensing type as well as condensing extraction mode.
Available with economical solution Grid synchronizing, paralleling and local sharing for seamless smooth operation.
Steam Turbine for Steel Mills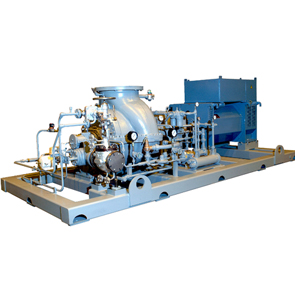 Steam Turbine for Steel Mills offered feature oil lubricating unit integrated in base frame.
Features:
Support of nozzle group control valves.
Provides for smooth start without pre-heating requirements.
Specifications:
Can be highly customized as demanded by the customers.
Works as essential piece of turbomachinery in power plants.
Modular design concept ensures high flexibility.
Efficient and customized turbines as demanded by customers.
Meets requirements of high process reliability & efficiency, environmental compatibility.
Providing for low life-cycle costs.
Offering best possible return on investment.
Steam turbines are cost competitive and reliable source of electricity.
Steam Turbine for Power Plants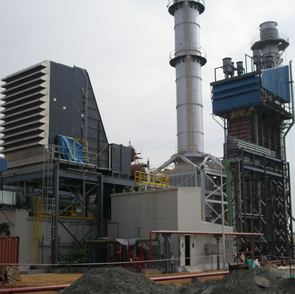 Steam Turbine for Power Plants offered is made available in single casting as well as dual casing turbine options.
Features:
Gearbox support that can run on different steam lines.
Provides for highest cost efficiency and performance.
Specifications:
Allows for high heat gradients to be reduced.
Allowing for controlled extraction capability.
Available in design options of back pressure, extraction/condensing type configurations.
Oil unit coming integrated in base frame.
Nozzle group control valves available.
Allows for quick-start without requirement of pre-heating.
Extremely compact construction finish design.
Pressure controlled extraction and/or feed-in support.
Suitable for use in high pressure/low pressure applications.
Curtis Turbine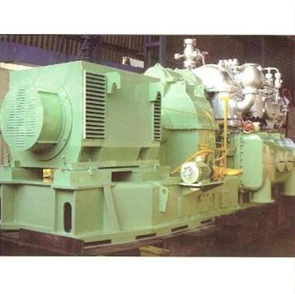 Curtis Turbine offered require low-maintenance because of simple designs.
Features:
Extremely failure safe design.
Allows for quick-start up.
Specifications:
Allows for cost-effective production & energy saving.
Assuring resources are utilized more effectively.
Turbines are cost competitive and reliable solution for diverse needs of industry.
Generator drive specially designed for 75-3500 KW output range.
Simple, extremely compact design.
Provides for high degree of operational reliability.
System supported by protection unit & circuit breaker.
Single-stage impure turbine.
Steam Turbine Governors & Governing Systems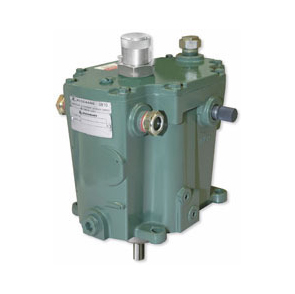 We provide excellent Governers/actuators and understake retro fitment of the same on your existing turbine.